#StateCapture 2.0: Ex SA Ambassador To Italy, Tembi Tambo, Oliver Tambo's Daughter, Linked to Government Pension Fund Plunder! PIC Pays 28 Times More Than Market Price For Bare Undeveloped Land!
Down The Corruption Rabbit Hole: In yet another shocker for members of the Government Employee's Pension Fund, it has been revealed that The Public Investment Commissioner (PIC) has "invested" in land, on their behalf, for R570,525 per hectare in Coligny, where the average price per hectare is less than R20,000! The Ex SA Ambassador to Italy, Tembi Tambo (pictured), daughter of Oliver Tambo, is a representative of @Isago, the controversial company benefiting from this and other highly questionable transactions. 
Criminal "Fund Managers" are robbing Peter to payback Paul, who they also robbed but were caught out. In a shock for members of the Government Employee's Pension Fund (GEPF), which has been looted by the very body that should be protecting it, The Public Investment Commissioner (PIC), which has just dished out a massive R586,525 Million for 60% share in 2 bare pieces of undeveloped land, near Coligny in North West Province. The 2 pieces of bare land bought, are called IP (564) and Palmietfontein (403) which measure 481 and 547 hectares respectively.
The price paid comes to R570,525 per hectare, yet the average price for similar undeveloped land in the vicinity is less than R20,000 per hectare!  The land is on the N12 between Klerksdorp and Stilfontein and borders old mine developments on the east side, and town developments in Klerksdorp to the West of it.
The whole transaction reeks of an elaborate plot to fleece the GEPF to repay another fraudulent theft from the other pension fund – for municipal councilors, called MCPF, that was placed under curatorship, after being robbed in a similar way in another loaded land deal. The court found that R110 Million more than the land's value was paid and Isago@N12 Development (Isago) was instructed to pay the excess back to the fund. Dr. Martin Khunou (pictured) is listed as a director of Isago. No fines or jail time then?
The previous SA Ambassador to Italy, Tembi Tambo (pictured with Dr. Martin Khunou), daughter of Oliver Tambo, is also a representative of @Isago and she previously presented a massive R15 Billion investment cheque to the Klerksdorp / Matlosana city council where Isago is very involved.
Not sure if it is ANC instructions to all Ambassadors to search for loot, but we thought Ambassadors are meant to represent South Africa abroad, but now we know why it is impossible for a South African abroad to get documents or consular support – Tembi Tambo actually said her job in Italy is to look for investment opportunities and she has found some suckers, erm… sorry… cough, investors in an Italian infrastructure company, that has been convinced to invest in Klerksdorp. If only they knew…
The Financial Sector Conduct Authority (FSCA) reported in July last year that the curators of the Municipal Councilors Pension Fund (MCPF) had successfully recovered R120 Million excluding VAT, that was overpaid for the vacant undeveloped land. In a statement, the FSCA said that this amount represents the full purchase price which MCPF paid to Isago for the land. The property was only valued at approximately R70 million at the time of the sale.
Around the same time, the month before in fact, according to the Farmer's Weekly, the purchase of these two new pieces of land was completed during 16 and 22 June 2019, and the owner of the land was the same infamous company Isago@N12 Development (Pty) Ltd, for whom ex Ambassador Tembi Thambo is a representative.
In this latest scam, the PIC is buying a 60% share in the land from this controversial entity called Isago@N12 Development, a supposed property development company deeply entrenched in Klerksdorp property development, which in turn is owned by Anglo Saxon Development. Anglo Saxon aka Group 5 Consortium, in turn is controlled by the Karoo Boerdery Trust which is controlled by Doreen and Una Crause. The other 26% of Isago is owned by Moedi Bosele Investors (Pty) Ltd, a local investment firm. Other / previous ISAGO shareholders include, Syfin Property Developers (Pty) Ltd, RKK Family Trust and Group Five Construction (Pty) Ltd
The development of the N12 project was but one project among various other projects in South Africa and Mauritius for ISAGO which is described as a special purpose vehicle or development company in a High Court case brought, and subsequently lost, by Diggers Development (PTY) LTD, involving Isago and yet more land in Klerksdorp, N12-15, going back a decade to 9 March 2010.
In this latest Isago plot the GEPF will hold 60% of the land bought directly and the other 40% of the land is transferred to the "new" company called Isago Holdings in which Moedi Bosele will hold 19,5 %. No mention is made of the Crauses in the post transaction ownership structure. Isago owed the pension fund for municipal councillors (MCPF) an amount of R137 million in terms of a court settlement after Isago was involved in similar transactions with the MCPF, worth R200 million. Those transactions were also the subject of an investigation by the Hawks.
Wouter Wessels of the VF+  went to have a look-see at the land itself and he says there is no development there and there is no way that the amount of R570,525 per hectare can be justified. According to Wessels the VF+ will ask the Hawks to investigate the matter further.
The FF Plus insists on answers to the following questions:
Why did the GEPF pay such an exorbitant price for the land,
Who authorised the transaction
When and for how much did Isago purchase the land initially?
In terms of purely agricultural value, there is no way that the price paid per hectare can be justified.
There have been various questions regarding the use and possible misuse of GEPF money in the past and these have set the alarm bells ringing. In the FF Plus's opinion, this latest transaction is undeniable proof that money from public officials' pension fund is being misappropriated.  The FF Plus also confirmed that the Competition Commission approved the transaction, raising even more questions.
It seems in this instance the people behind Isago robbed Peter (GEPF) after being caught out robbing Paul (MCPF). Fraud is definitely at play here and  it is a good question if justice will ever be served here, in Africa.
It seems every turn we take in this story, there is a scam at work, and we have only just started…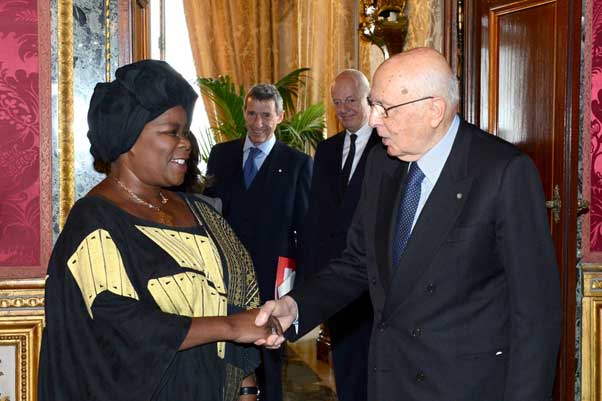 South African Ambassador Nomatemba Tambo presenting her credentials to then Italian President Mr Giorgio Napolitano in 2013. She is also Ambassador to Albania, San Marino and Malta, which fall under the scope of the Mission in Rome.
See also: ANC regime announces that experts from Italy have been called in to restore poor service to Eskom, while South Africa is swarming with extremely capable whites who can do the job
---