As Desperate European Nations Return Defective Medical Gear To China, NASPERS Partners With Communist China to "Donate" a R 1 Billion Tax Break for its Tencent Business in China, To Buy Chinese Made Medical Gear For SA's COVID19 Fight!
The Profiteering & Propaganda opportunities created by the CoronaVirus catastrophe seem endless for the Chinese Communist Regime and its sympathisers like NASPERS, ANC, Jack Ma, etc. who are not letting a good crisis go waste! Having shut its own borders preventing anyone from coming in, China is now happy to play godfather to a world struggling with the ravages of their Chinese virus. China are exporting anything from the virus itself, to masses of cheap low quality, defective medical goods and gear with heaps of propaganda. Like a virtual Commie love-fest, Ramaphosa announced during his address to the nation, that NASPERS, China's china, had "donated" R1.5 Billion to help Communist China, erm sorry, for the Corona Relief Fund in SA, however the Naspers group will contribute only R500 Million to the Corona Relief Fund, announced by the President last week.
Naspers and its Tencent Business in China, in partnership with the Chinese Communist government will buy R 1 Billion worth of personal protective equipment and other medical supplies from China, just like the ones Europe are returning, to help China in its massive global PR operation, to cover up its non compliance in not warning the world about the virus, and of course also to support South Africa's health workers when they eventually fly the equipment to South Africa.
Meanwhile, the South African National Defense Force has already received a donation of medical protective gear from China's Armed Forces. The donation includes 2,000 protective goggles, and 30,000 face masks and was reported loudly and proudly on the official Chinese Government TV channel. They also claimed Chinese companies in South Africa have donated R 3 Million rand towards the fight. Interestingly the Chinese State run channel also characterize the relationship between South Africa and China has having developed from a partnership, to a strategic partnership (the Zuma era), to now, being a "comprehensive strategic partnership". Yes, Ramaphosa too is a marxist. What is next? Will South Africa become a protectorate or province of Communist China?
Beijing also had to fight off a statement from a French government minister, who said that China – through its supply of medical equipment and workers – was using the pandemic as a means to win favor with the international community. In response the Chinese Foreign Ministry had claimed China was playing its part in the global fight against the COVID-19, even though they contravened International Health Regulations by suppressing information about the virus back in November already, when they arrested all the taxis drivers who were talking about it. As part of the World Health Organisation they are compelled to notify other member countries in time, they did not, but chose instead to suppress it, as a result multiple law suits have been lodged against China.
Spain, Turkey, Ukraine and the Czech Republic are now returning made-in-china testing kits which a resurgent China is exporting to desperate nations hit by its virus. Medical equipment and testing kits being exported around the world, that were paid for, but claimed as being goodwill gestures, but these Chinese kits were found to be of substandard quality, not meeting basic compliance requirements. The Netherlands has also recalled tens of thousands of masks they had bought from China. Dutch officials say these masks do not meet quality standards.
As Spain's death toll nears 8,000, more than double what China's was,  the Chinese embassy in Madrid defended itself again on Thursday (26 March) from the accusation that the Spanish government had bought a batch of faulty COVID-19 testing kits, blaming it on a convenient "unauthorised" Chinese company. Is such a thing even possible in Communist China where your cellphone tells Party officials whether you might have the virus or not and where you travelled?
Even the Leader of the Brexit Party in UK, Nigel Farage said "China is acting like the charitable godfather, dishing out money, medical equipment and trying to use this crisis to gain global power".
"When Germany refused to export medical masks to Italy, despite the desperate state they were in, guess who stepped in – the people who caused it – the Chinese," Mr Farage told Sky News, adding that "I wouldn't want to see the idiots in Brussels replaced by Chinese communism dominating the world even more than it does today".
China is also using the opportunities created by its virus to profiteer and extend its Belt and Road plans to build a 'Health Silk Road' where  Chinese companies would sell Coronavirus medical supplies to the worst hit countries. The coronavirus crisis is a big business opportunity for China!
Meanwhile as the world grapples with the coronavirus crisis, countries like Spain, the second worst affected country in the world in terms of deaths, acted in desperation. Just days ago a Spanish government spokesperson Maria Montero said the country fought "a war while procuring medical supplies in an overheated Chinese market, but the testing kits purchased from a Chinese firm were faulty." These kits could detect only 30 percent of the cases. Just a day earlier the Spanish government had placed a 475 million dollar order for emergency medical equipment from China and now there is uncertainty over that deal.
The testing kits sent to the Czech Republic were even worse – 80% of the rapid test kits sourced from China were faulty! For these desperate countries it may have been bad business in usual times, but amid the outbreak it proved to be disastrous. Yet countries desperate to cope with the Chinese virus, are lining up to receive help from China! China is supplying over 10,000 testing kits to Africa as the corona virus cases rise across the continent. Poland too will be receiving more than 10,000 kits along with protective gear and masks.
China has handed over a hundred thousand testing kits to the Philippines and there another communist sympathiser, the Philippine Foreign Secretary was singing the praises for China's tremendous "help". China has also sent medical teams to several countries including Serbia and Italy where China has sent three teams so far in total. China is said to have extended its so-called generosity to 89 countries and four international organizations. Playing this role of a savior could help the Asian giant absolve itself of any blame for the deadly outbreak it unleashed upon the world.
The Chinese state media too is hard at work to kill the negative publicity, saying there is no place for a smearing game over the products made in China. Good PR for its products is necessary because as China has come to realize in recent decades, exports are profitable profits but during a pandemic though, it does not sound morally right does it?
There is a saying about communism, that they will break your leg, then offer you a crutch to show you how caring they are…
China however is fast moving towards normalcy while the rest of the world is in dire straights. In China restrictions are being lifted, business has resumed, yet the most advanced countries in the world do not have enough protective gear, not enough masks, not enough ventilators, etc. but China has loads and it's cashing in on this shortage by flooding them with these medical aids. Ninety percent of large Chinese firms are back at work, but not without government help. Like most countries, China too has announced a large relief package to revive the economy and they communicated the figure of 344 Billion US dollars in terms of mainly fiscal measures. Like the tax break to NASPERS?
While major countries are still struggling, China has a head start and can bounce back quickly by boosting business, and what is the world is in need of right now? Personal protective equipment and masks are in short supply, and guess who is filling the gap? Chinese companies.
According to a report almost 9,000 new manufacturers started producing masks in China this year. China's daily mass production has crossed one hundred and fifteen million masks per day! Companies making the most of the situation are BYD, a company that normally makes electric cars, which claims it could make five million masks per day. Foxconn, the Taiwanese company that makes iPhone says it can make two million masks per day. Chinese firms are helping the government win the PR battle. The New York Governor, another sympathiser, Andrew Cuomo thanked Huawei for donations, yet they are the Chinese company that the US government blacklisted due to security reasons.
The coronavirus may have turned into a nightmare for the world, but for China, this homegrown disaster has now turned into a mega opportunity to act like a crisis manager for beleaguered nations, an opportunity to trumpet it's alleged success and make the most of it.
China may be selling tens of thousands of test kits to virus hit nations, but they are substandard and defective. The Spanish government fell for these "humanitarian gestures" and now it is feeling sorry for what it did – 9,000 of the coronavirus test kits that Spain bought from China have turned out to be faulty. 70,000 of the tests conducted using these kits produced wrong results! The outcome is Spain has become the
third worst hit country with more than 85,000 active cases and more than 7,700 deaths!
Turkey has very similar concerns. The Turkish government says the testing kits they had bought from a Chinese company do not meet their effectiveness standards. The Czech Republic bought 150,000 rapid test kits but only 30,000 have turned out to be effective. This is a long list and many nations are paying a heavy price for doing business with China. It is like a double blow, you get the virus from China, then ask them for help with it and get hit in the guts again!
The bottom line is that one must look past the propaganda and not rely on made-in-china products, especially not for a crisis created by China itself, you never know what you're paying for… well unless you are NASPERS or Jack Ma…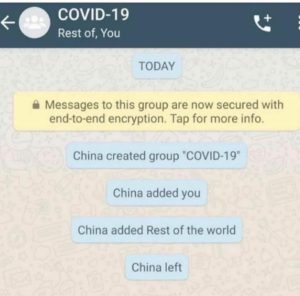 Then there is the infamous race card that China pulled in Italy! Read more here: VIDEO: "Hug a Chinese" Activists Blamed For Italy's High #CoronaVirus Infections as Cyril & The Pro China Left Try Bullsh*t The Virus With Virtue Signalling & PC Speeches!
---